Changing the timestamp date format
You'll notice that the timestamp string on our first blog post reads just "March 22, 2023". This isn't a problem if you plan to post only once a day, but what if you want to make multiple posts per day? It would be nice to have some indication of what time it was when you wrote each post.
To choose a different datestamp format, go to "Settings" >> "Formatting", as you did for changing the time zone. This time, click on "Timestamp format".
This is where things get disappointing. Of the 11 permitted datestamp formats, only one gives both date and time, and this format produces datestamp strings of the form "3/22/2023 10:29:36 PM". There are at least three things wrong with this datestamp format:
It uses the illogical month/day/year ordering that makes sense only to Americans;
it uses "AM"/"PM" instead of the internationally understood 24-hour clock to distinguish between morning and afternoon; and
it gives no indication of the date zone being used.
Unfortunately, switching to a more sensible datestamp format is more complicated than selecting an option from a pull-down menu, but it is possible. Thanks to YouTube user "Live Blogger", whose video showed me how this is done.
First, click on "Theme" in the sidebar of the management page. You'll be presented with a list of Blogger "themes", with the one currently in use at the very top of the list (n.b., I stuck with the default "Contempo Light" theme. These instructions ought to work with other themes, but I really don't know for sure).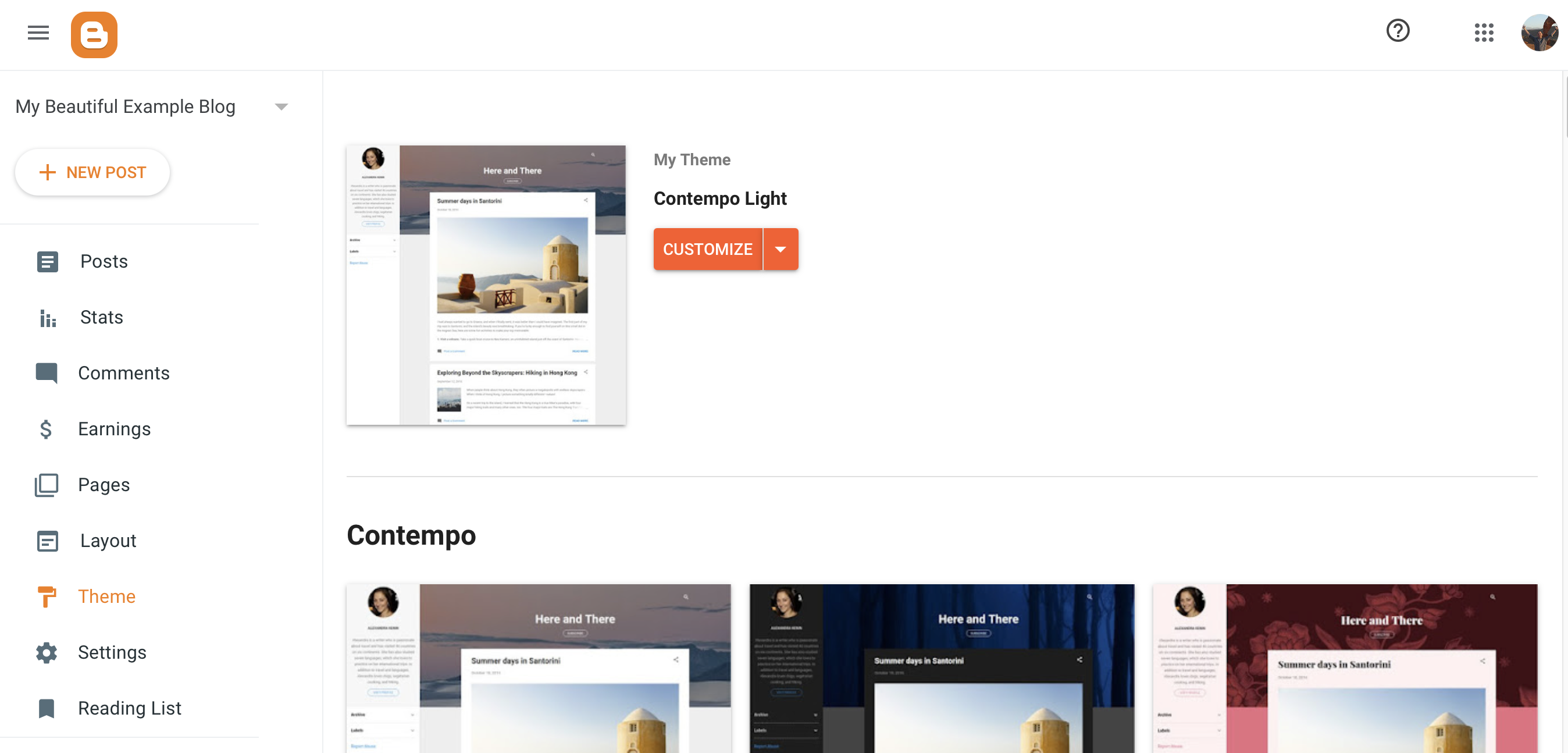 Now do not click on the "Customize" button itself; instead, click on the downward arrow button beside the "Customize" button and select the "Edit HTML" option.
You should now be looking at a page of unintelligible Web code. You're going to look for a particular line of code, but be warned: if you just use the search function of your Web browser, it is probably not going to find it.
Instead, click on the "Jump to widget" icon (the one showing four stacked squares, with one of the squares being crooked) and select "Blog 1" from the resulting pull-down. Now your Web browser's search function should work.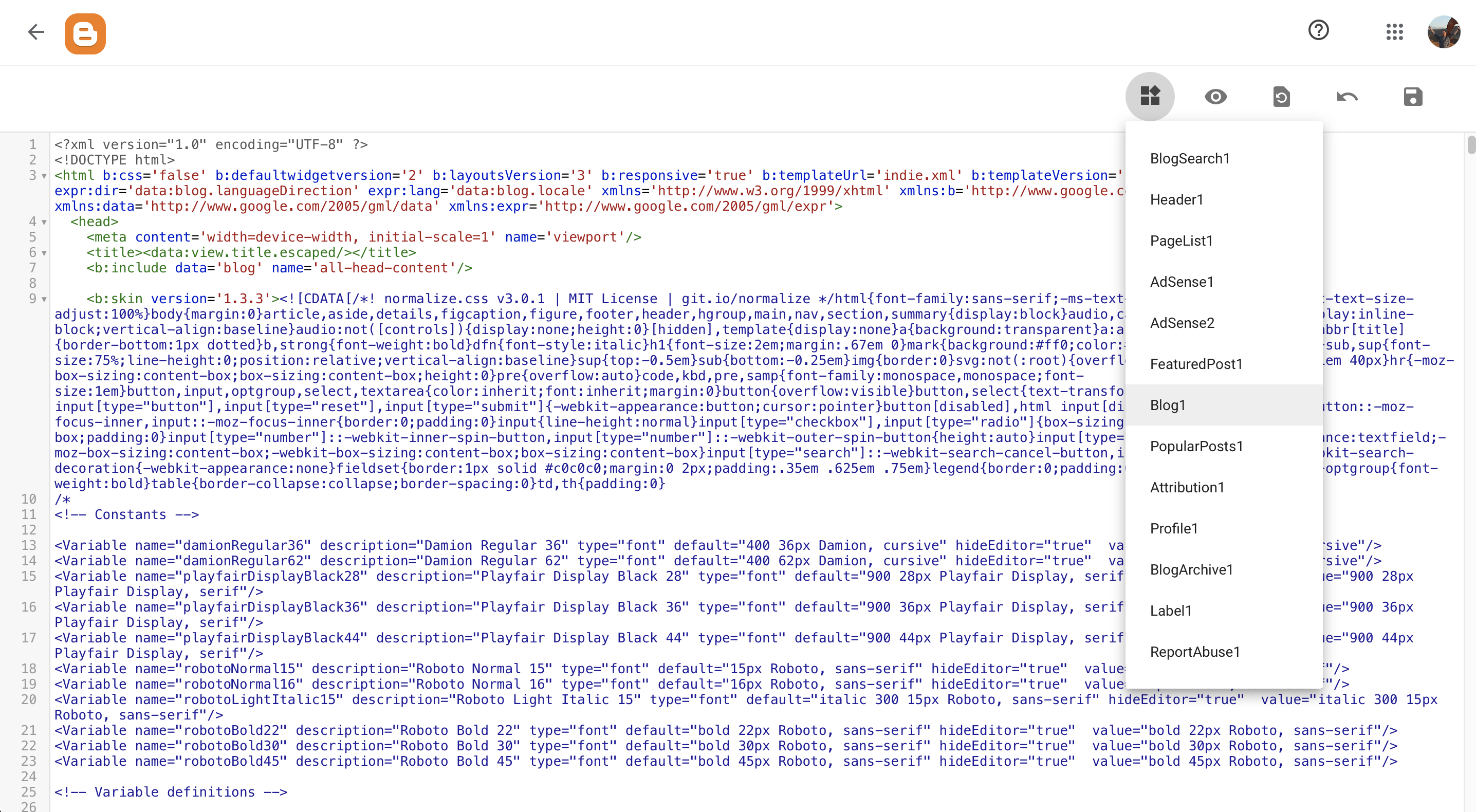 Look for the string
<code><div class='post'></code>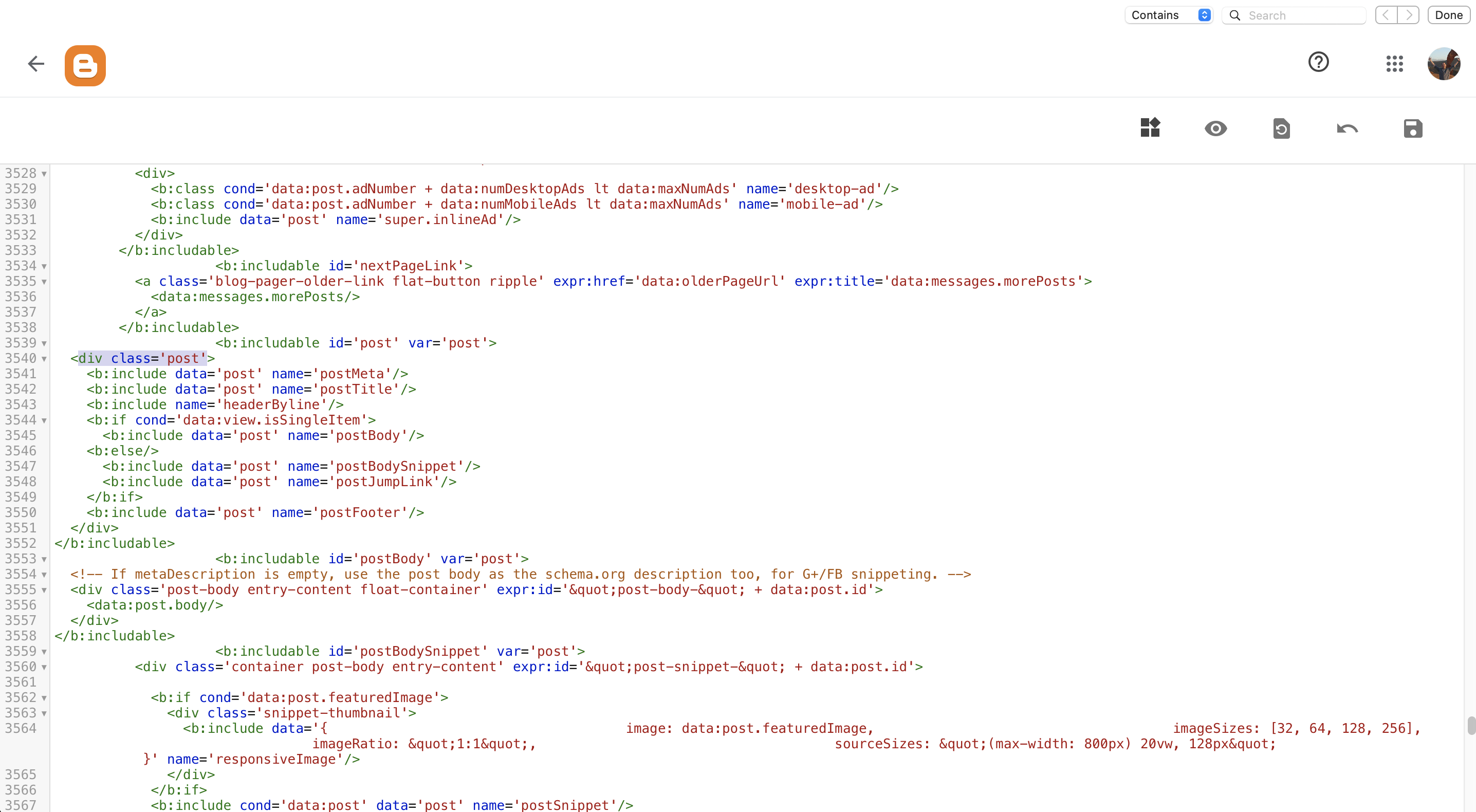 Three lines down from this, you should see the line
<code><b:include name='headerByline'/></code>
Delete this line and replace it with the following three lines of code:
<div class='post-header'>
   <b:eval expr='data:post.date format " yyyy-MM-dd HH:mm z"'/>
</div>
Your code should end up looking like this: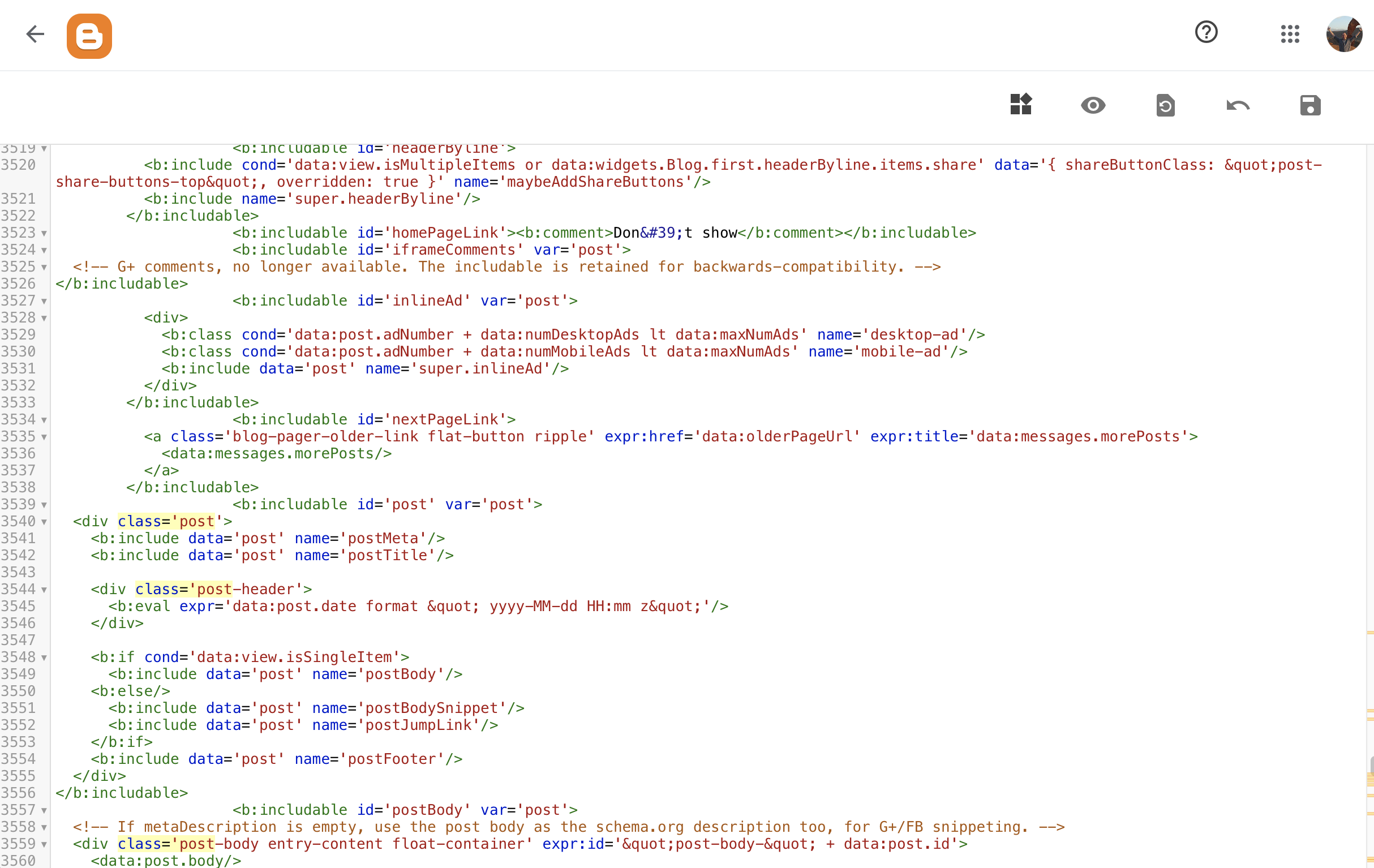 Finally, click the "Save" icon and go back and look at your post.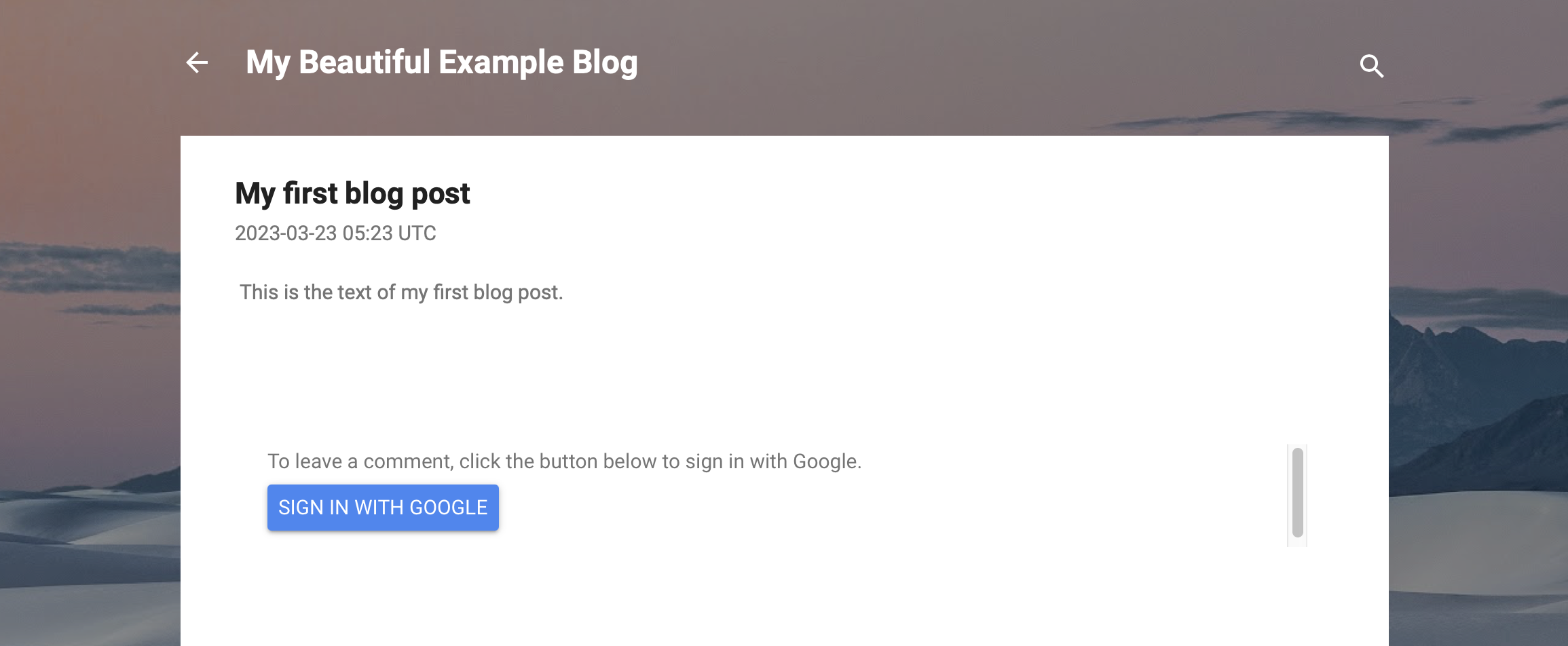 Success! The datestamp string is now in the sensible year-month-day format with 24-hour clock and the timezone is displayed.
You can play with this format further, if you like: change the timezone format from 'z' to 'Z' to get numeric timezones rather than timezone abbreviations, for example. You could even go to the full ISO-8601 time format with time precision down to the nearest microsecond with the format specifier 'yyyy-MM-dd HH:mm:ss.ssssss Z' if you really want to.